CNC Technology On the Cutting Edge
Digirout Prices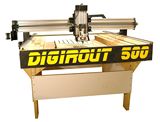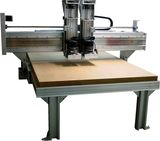 Click on DigiRout Model Below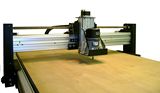 DigiRout CNC routers can be ordered as a "bare bones" machine for economy or as a package price including router, table, PC, and Cad/CAM software.

Or you can lease the DigiRout for as little as $4/day. Maintaining the lease payments would require only a few minutes per day of cutting time.

Give us a call Toll Free at 866-966-4335 to discuss your CNC Router application or email us at sales@digirout .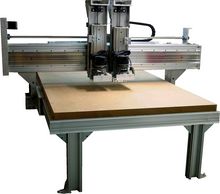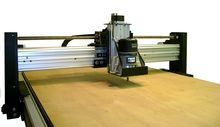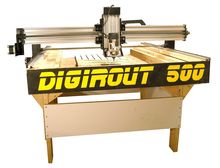 DigiRout 2000 Prices
| | | |
| --- | --- | --- |
| DR2000 4'x8' Base Machine Options | CAT # | Price |
| DR2000 4' x 8' x 6" cutting area Industrial CNC Router | DR-2481 | $9,900 |
| Ready To Assemble Aluminum Table | AL-4810 | $2,000 |
| Porter Cable 7518 3 & 1/4 HP router & Mounting Brackets | SP-7518 | $500 |
| BOBCAD DXF to Gcode CAM software | SW-BOB | $500 |
| Total of Above without Discount | | $12,900 |
| DR2000 Package Price Discount | | -$1,000 |
| | | |
| DR2000 Package Price with $700 Discount | PK-22481 | $11,900 |
| | | |
| --- | --- | --- |
| DR2500 5'x10' Base Machine Options | CAT # | Price |
| DR2500 5' x 10' x 6" cutting area Industrial CNC Router | DR-2510 | $10,900 |
| Ready To Assemble Aluminum Table | AL-4810 | $2,500 |
| Porter Cable 7518 3 & 1/4 HP router & Mounting Brackets | SP-7518 | $500 |
| BOBCAD DXF to Gcode CAM software | SW-BOB | $500 |
| Total of Above without Discount | | $13,900 |
| DR2500 Package Price Discount | | -$1,000 |
| | | |
| DR2500 Package Price with $700 Discount | PK-2510 | $12,900 |
| | | |
| --- | --- | --- |
| Vacuum Options | | |
| Regenerative Blower (Application Dependent) | VC-RG1 | $CALL |
| | | |
| --- | --- | --- |
| Spindle Options | | |
| 6 HP High Frequency Spindle with Inverter | SP-6090 | $3,200 |
| 8 HP High Frequency Spindle with Inverter | SP-8090 | $3,900 |
| 5 HP Automatic Tool Changer Spindle with Inverter | SP-5ATC | $8.900 |
| 10 HP Automatic Tool Changer Spindle with Inverter | SP-5ATC | $9.900 |
DigiRout 1500 Prices
| | | |
| --- | --- | --- |
| Base Machine Options | CAT # | Price |
| DR1500 4' x 8' x 3.5" cutting area Industrial CNC Router | DR-1500 | $6,900 |
| 4' x 10' x 32" Welded Steel Table | ST-4810 | $700 |
| Porter Cable 7518 3 & 1/4 HP router & Mounting Brackets | SP-7518 | $500 |
| RAMS 2D DXF to Gcode CAM software | SW-RAM | $500 |
| Total of Above without Discount | | $8600 |
| DR1500 Package Price Discount | | -$700 |
| | | |
| DR1500 Package Price with $700 Discount | PK-1500 | $7900 |
| | | |
| --- | --- | --- |
| Spindle Options | | |
| 2.7 HP High Frequency Spindle with Inverter | SP-2773 | $2,000 |
| 4.7 HP High Frequency Spindle with Inverter | SP-4773 | $2,800 |
| Vacuum Options | | |
| VC4 V-Clamp Pod (Runs from Compressed Air) | VC-VC4 | $75 |
| | | |
| --- | --- | --- |
| Vacuum Options | | |
| VC4 V-Clamp Pod (Runs from Compressed Air) | VC-VC4 | $75 |
DigiRout 500 Prices
| | | |
| --- | --- | --- |
| DR500 5'x5' Base Machine Options | CAT # | Price |
| DR535 3' x 5' x 2.5" cutting area Industrial CNC Router | DR-535 | $4,300 |
| Ready To Assemble Steel Table Base | ST-535 | $500 |
| Porter Cable 892 2 & 1/4 HP router & Mounting Brackets | SP-892 | $300 |
| DesKAM DXF to Gcode CAM software | SW-DSK | $400 |
| Total of Above without Discount | | $5,500 |
| DR2000 Package Price Discount | | -$600 |
| | | |
| DR2000 Package Price with $700 Discount | PK-22481 | $4,900 |
| | | |
| --- | --- | --- |
| Vacuum Options | | |
| VC4 V-Clamp Pod (Runs from Compressed Air) | VC-VC4 | $75 |